I just tried to read what was a really decent post about blogging, but every paragraph was broken up with animated GIFs and the page was so busy it was on the verge of triggering a migraine. This was a post trying to give blogging advice, but what the author really needed was a lesson in layout design.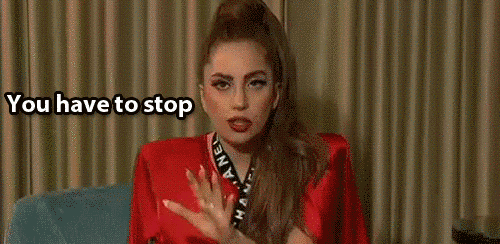 How am I supposed to pay attention to what you are trying to say, when someone is dancing above your text and drawing my attention away? I get maybe one or two well placed photos or GIFs to drive a point home and complement the article, but one after EVERY paragraph? No. Just stop. Even trying to write this while Lady Gaga waves her hand over and over above this paragraph is starting to annoy me.
I've only recently started running into this and didn't even include it in my grouchy tirade I Don't Read Your Blog, Here's Why, although it falls along the same lines as the blogs that are all jammed up with ads between every paragraph. Except you guys with the ads are way worse. Nothing ruins a good blog post faster than text broken up with some horrible graphic and a women grabbing her flabby middle and asking me if I want to get rid of my excess belly fat. At least the GIFs actually make sense with the text.
The whole point of blogging is for people to be able to focus on what you are actually writing. (unless of course you have some other type of blog) It's hard enough for most people to focus for just the few minutes it takes to read your post without ten other things jumping around on the page competing for their attention. Make it easy. Write something interesting and compliment it with a few good photos. Also make sure these photos are not massive images that dominate the whole page unless you have a photography or magazine style blog.
So that's it. I want to read your post but I just can't. Please stop it with all the GIFs. If you have two or more jumping around on the screen at the same time, it's just too much.
*End Rant*